If you want to move large or small goods, with a vehicle or on a trailer, in most cases you have to secure them for reasons of load securing. Lashing straps, synonymously also often called tensioning straps, are very suitable for this purpose. There are basically two types of lashing straps. The one-piece lashing strap, which you have to loop completely around the goods and means of transport and then insert the end into the ratchet. And there is the two-piece lashing strap. This consists of a short strap with a ratchet and hook and a long part with a hook only. This means that such lashing straps can be used very well with trailers that already have corresponding eyelets or lugs for attaching such straps.
The ratchets can differ, depending on the manufacturer. Nevertheless, the principle is similar in most cases.
Fastening the tensioning strap
Sling a one-piece tensioning belt completely around the transport belt and means of transport or, in the case of a two-piece belt, attach the hooks to the eyelets or attachment points provided. Make sure that the belt is not twisted.
Align the ratchet core with the slot by moving it back and forth so that the slot faces forward, as shown in the picture.
Open the ratchet slightly to wide (pull the locking bolt if necessary) and thread the loose end/part of the lashing strap through the slot provided in the ratchet core. The threading is done from the back/outside of the ratchet. Pull the strap through until it is slightly pre-tensioned, but do not tighten it completely, otherwise the strap will not wind up properly when ratcheting.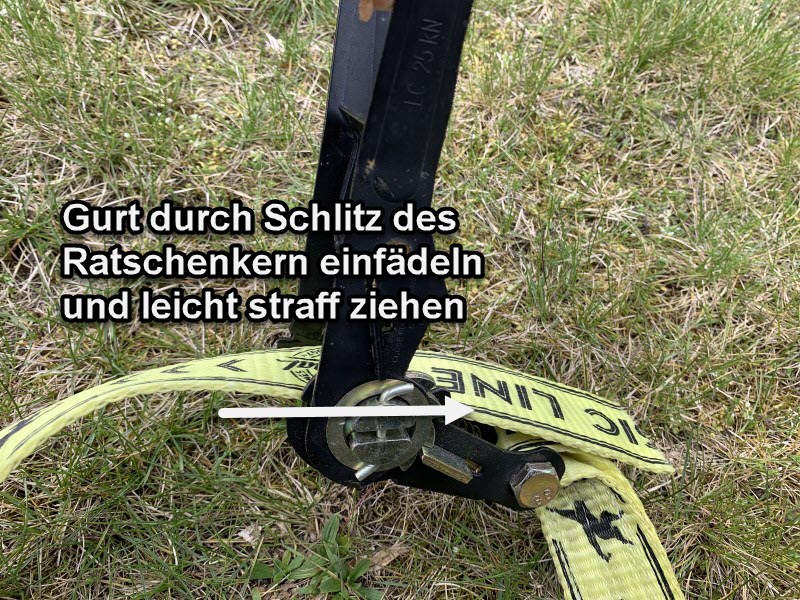 Now use the ratchet to tighten the webbing by moving it back and forth.
Once the tensioning strap is fully tensioned (and the load is immovable), close the ratchet fully and make sure the locking latch engages properly to prevent accidental release.
Loosen the tensioning strap
To release the tensioning strap, pull back the locking latch
Then release the lock and unfold the ratchet as far as possible (180°)
Operate any other locking latch that may be present
In this state, the tensioning strap can then be easily pulled out of the ratchet core again
Finally
If you use tensioning straps rather infrequently, then you have to consider each time how around to thread the strap correctly and how to operate the ratchet. You can also get bogged down when loosening the strap. That's why it's a good idea to go through the process of fastening and unfastening the tensioning strap 2-3 times as a dry run, and then you'll be able to get the hang of it the next time you move furniture or set up the slackline.